Russia and its neighbor Ukraine have been at odds for many years, but in early 2021 things blew out of proportion and a year later, the world is about to witness a World War III.
The Russian army invaded Ukraine by land, sea, and air on Thursday, February 24, 2022, marking the largest military action across Europe since World War Two.
After Russian President Vladimir Putin said he was aiming to demilitarize and 'denazify' Ukraine, missiles were fired at its cities and residents fled.
THE GENESIS
Last January, Ukrainian President Volodymyr Zelenskyy urged US President Joe Biden to allow Ukraine into NATO.
Now, NATO stands for The North Atlantic Treaty Organization or Atlantic Alliance (NATO). It is an international political and military organization whose mission is to guarantee the freedom and security of its members through political and military means. It comprises 30 member countries from Europe and North America. Protecting and defending NATO's territory and citizens is the Alliance's primary responsibility. Thus, if you attack 1 country, be sure that all 29 remaining will come after you.
Well, Vladimir Putin, Russia's President didn't have any of that. The Russian government had always demanded that NATO cease its eastward expansion and the thought of Ukraine slipping in as a member was a bother. Russia responded by sending troops to its Ukrainian border for "training exercises" around March to June last year, then intensified them around November/ December.
The United State began announcing the deployment of the Russian troops and the US President, Biden warned that if Russia invaded Ukraine, severe sanctions would be imposed. By then, Russia had deployed about 200,000 troops. Putin, however, kept denying plans to attack Ukraine but announced on Thursday, February 23, 2022, that he was launching a "special operation" in Donbas. We'd come back to Donbas.
YOU MAY ALSO LIKE: Russia-Ukraine crisis: Nigeria Petroleum Minister, Sylva Lament Uncomfortable Oil Prices
Why exactly is Russia angry about Ukraine joining NATO?
After World War II in 1945, the world was divided into two camps; the US and the Soviet Union dominated the world. So, you're either for the Soviet Union (the east) and against the U.S (West) or vice versa. The U.S was able to fight Soviet heads on because there was NATO (although, then there were just 12 member states). However, in 1991, the Soviet Union collapsed into 15 new countries: Armenia, Azerbaijan, Belarus, Estonia, Georgia, Kazakhstan, Kyrgyzstan, Latvia, Lithuania, Moldova, Russia, Tajikistan, Turkmenistan, Ukraine, and Uzbekistan.
Fast-forward to 10 years later, the former eastern states (that broke out of the Soviet Union) started joining NATO after the organisation enticed and offered them membership. Even Ukraine was offered one in 2008 and in 2021 they are willing to seek membership. Now, imagine your sworn enemy in bed with your kinsmen; one of the reasons Putin is pained.

The Russian government wants NATO to give a legally binding guarantee that no military activities will be conducted in eastern Europe or Ukraine. Vladimir Putin claims Ukraine is a puppet of the West and was never a proper state anyway.
Russia would be totally encircled if Ukraine joined Nato, which Putin would not accept. Therefore, he's ready to give all it takes to have the membership processing stopped.
But what is the special interest Ukraine?
This is not the first time Russia and Ukraine will throw punches. The 44 million-person Ukraine is divided into two parts, eastern and western parts. Ukraine also borders both the EU and Russia. Now, Ukraine's eastern states are more aligned with Russia, while its western states are more aligned with the European Union.

In 2014, Russian-backed rebels in eastern Ukraine took over large areas of the country and they have fought the Ukrainian army ever since. Prior to the clash in 2014, the Ukrainian government rejected a pact for greater integration with the European Union. That happened in November 2013 and it led to an internal crisis. There was a huge protest and heavy blood-shed as citizens fought against the then President, Viktor Yanukovych.
While Russia supported Viktor, the U.S and European Union supported the citizens. Now, we can slowly see the root of attacks and counter-attacks.  During that period, Russia also successfully took over Crimea and this was vehemently criticized and opposed by the U.S and NATO member states.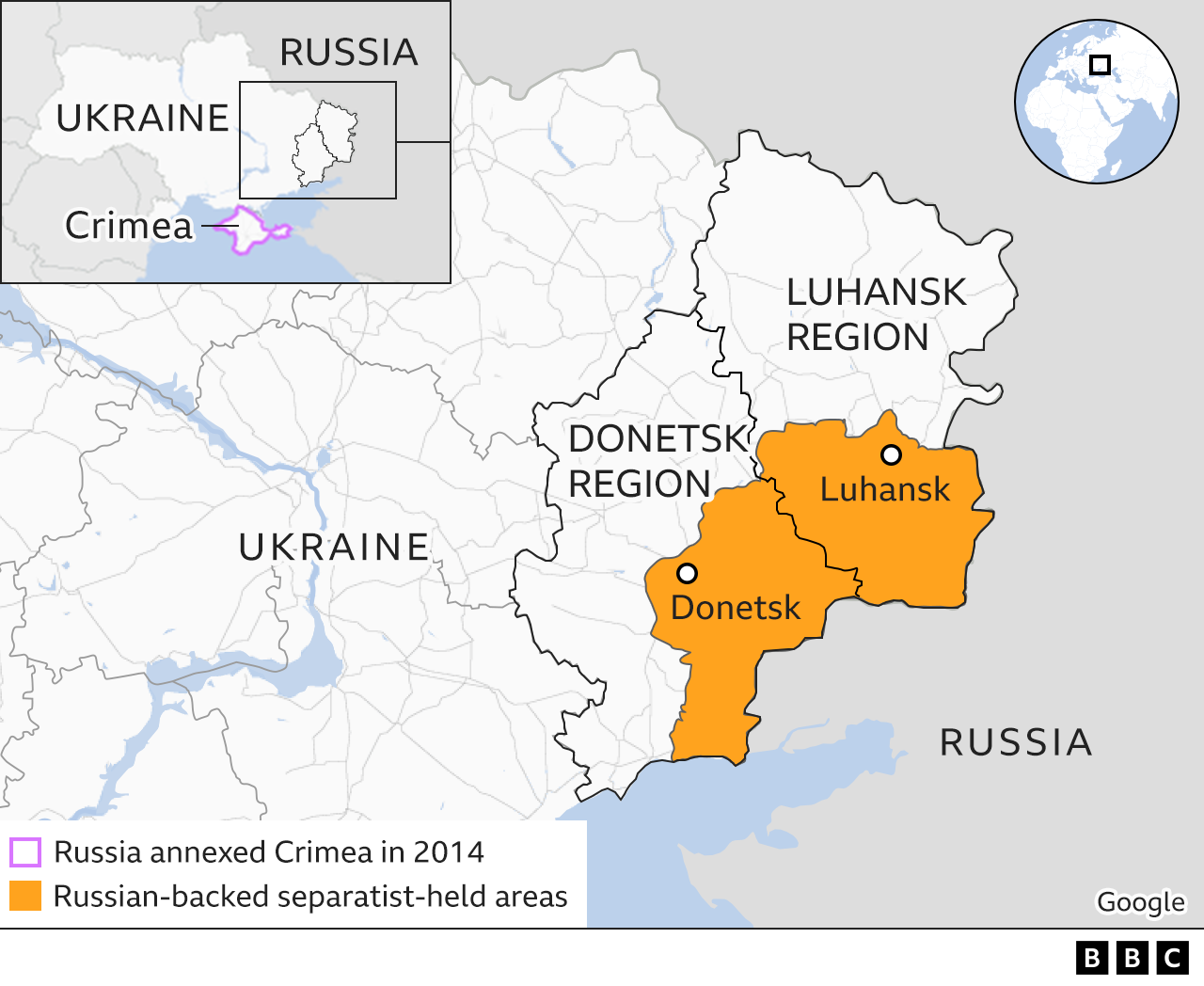 Pro-Russian separatists in eastern Ukraine have since established two republics, the Luhansk and Donetsk People's Republics, with the support of Russia and much to the dismay of the Ukrainian government that's currently tilted towards the west. That means Russia is slowly but steadily dominating Ukraine.
Bottom-line?
The battle over Ukraine is largely a clash of influence and power.
Donbas (remember from Genesis?) is the region where the conflict between the east and west are hottest. That means people who believe Ukraine should belong to Russia and those who believe it should roll more with the West, constantly clashed here. Now, a Minsk peace agreement was signed between Russia and Ukraine. This was believed to be able to halt the armed conflict in eastern Ukraine, including the Donbas region. Putin has often praised the historic unity of Ukraine and Russia, and he reiterated that sentiment when troops entered the Donbas. The conflict continued and now Russia claims it had sent soldiers as "peacekeepers" to the region where the conflict is brewing just before the full-fledged invasion witnessed yesterday.
However, the West thinks it is a Russian tactic to fully dominate Ukraine. Repercussions of the new tension will also be felt by the EU. So, the EU, most of which are NATO signatories, has joined the US in imposing sanctions on Russian entities.
Therefore, Russia wants Ukraine, but member-states of NATO (and the United States of America, particularly) won't sit still. They are, however, limited to throwing heavy sanctions. Once NATO accepts Ukraine, the U.S will have an edge over Russia. So back to the fact that the battle over Ukraine is largely a clash of influence and power.
World War III?