Nigeria's sprinter, Blessing Okagbare has been banned for 10 years for doping.
The Athletics Integrity Unit announced this in a statement on Friday, February 18, 2022.
The statement read in parts, "The Disciplinary Tribunal has banned Nigerian sprinter Blessing Okagbare for a total of 10 years".
"Five years for the presence and use of multiple prohibited substances and five years for her refusal to co-operate with the AIU's investigation into her case."
Here are a few things to know about her: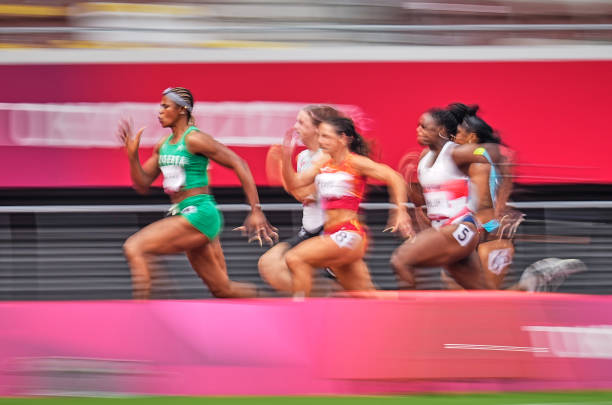 Genesis:
The 33-year-old was born in Sapele, Delta, in Nigeria. Her track and field career started in 2004 when she competed and won a triple jump bronze at the 2004 Nigerian National Sports Festival. Two years later she competed at the World Junior Championships in Athletics, marking her international debut. She was, however, unable to move past the qualifying rounds of both the long and triple jump competitions.
In 2014, she worked down the aisle with Nigerian footballer Igho Otegheri.
Achievement:
She holds the women's 100 meter fastest time record at the Commonwealth Games with a time of 10.85 seconds. She set a Nigerian record of 14.13 meters in the triple jump at the All-Africa Games trials in Lagos in May 2007. At the 2007 All-Africa Games, she finished fourth in the triple jump and won silver in the long jump. When she was only 19-year-old, Blessing won a silver medal in the women's long jump event at the 2008 Summer Olympics in Beijing.
Okagbare also won a long jump silver in the 2013 world outdoor championships where she added a 200m bronze.
She currently holds 2i national titles and 20 international ones.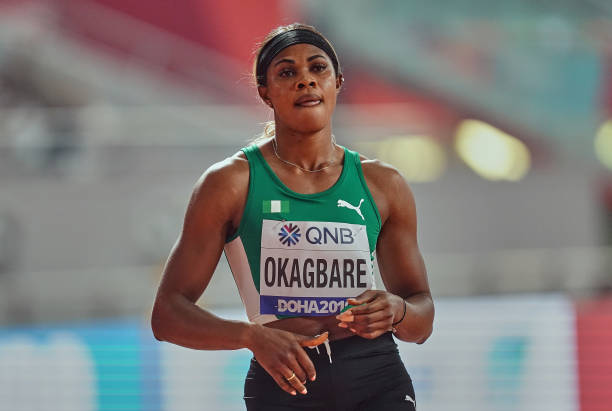 Seeming fall
She was suspended during the 2020 Tokyo Olympics because she had been found to have used two prohibited substances which are the human Growth Hormone (hGH) and recombinant erythropoietin (EPO). Blessing is also accused of refusing to cooperate with the AIU's investigation. All these led to her 10-year outright ban.
Way forward
According to the statement released by the AIU, Blessing may appeal the decision at the Court of Arbitration for Sport (CAS) within 30 days following the Disciplinary Tribunal's ruling.