Netflix's first original Nigerian movie, A Naija Christmas has hit the screens.
The Romantic Comedy film revolves around three grown men honouring their single mother's wish of being a grandma before Christmas. They, however, scrabble for a daughter-in-law for their mother solely because there is a prize attached.
The decision of the mother, Madam Agatha Agu played by Rachel Oniga (of blessed memory) stems from the huge humiliation she had faced during one of her band meetings. Her church's band members had insinuated that her inability to become a grandmother (like the rest of them) was a spiritual attack. Infact, they thought of prayer points and other solutions to her 'predicament'.
The mother hits back at her critics by proudly announcing one of her son's marriage proposal, beaming hope. This announcement ended up being a great mistake as the video of the Obi's (Efa Iwara) too-public marriage proposal, which was rejected by his girlfriend (Linda Osifo) by the way, goes viral and as you might have guessed the women used this against the mother.
Agatha is disappointed; her blood pressure rises. Agatha lands in an hospital. She gives a wild proposal to her children; the one who finds a wife by Christmas inherits the family house.
Great premise, right? But is A Naija Christmas worth the hype we've noticed since it dropped? N-O, NO! However, let's skip to the good part.
THE GOOD
The Theme and sub-themes
Late Marriages: Though a comedy, it appropriately mirrored the frustration that comes with not being married at a certain age as a man in Nigerian society. This is a subject that doesn't get enough attention from Nollywood. Instead, there are countless movies and enough awareness on the discrimination that comes with late marriages among females and the social stigma they face.
First-born fierce problem: Also, well portrayed, is the burden that comes with being a first-born in Nigeria. The first-born children face the constant pressure of being reliable, dependable, and successful. The bar is set high, and great expectations are set such that in many cases, the first-born children keep a whole lot of challenges to themselves while being or at least, posing to be a shoulder to cry on.
Faith: Nigeria is one of the most religious countries on planet earth and this was rightly depicted in the movie. The movie also portrays how religious Nigerians can be when their behaviour might speak the exact opposite. At least, a young man got away with sleeping with an active-member of the church, who is twice his age.
Class: Elitism is also portrayed in A naija Christmas. Madam Agatha's status-consious friends couldn't wrap their heads around the fact that the Christas gala was to be celebrated in a ghetto, Mushin.
Cinematography was great and there were impressive camera shots too. The sound editing was good and trust Kunle Afolayan to infuse some throwback songs.
Costume
While the choice of attire isn't anything special, the use of Nigerian prints (ankara and adire) to depict Obi and his best-friend turned lover, Kenang has nerds is worthy of commendation.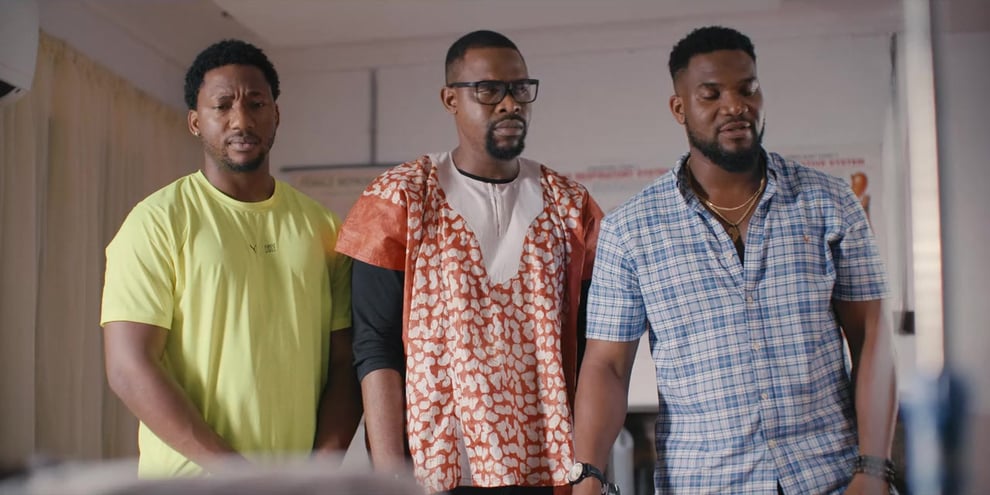 Cast
In terms of characterization, the movie deserves a thumbs up. The roles were well interpreted and we'd give the director a 10/10. Rachel Oniga gave the 'overly dramatic Nigerian mother' vibe and a rather comic side to her serious role. Kunle Remi brought a smooth delivery of the serial heart-breaker, and playboy. Abayomi Alvin played the last born and fitness enthusiast, who is deeply in love with a mysterious partner; a character the comedy builds up slowly.
The movie allowed the audience keep guessing about just who the lover might be. Many must have concluded that he was gay.
One must not forget Segilola Ogidan who played the sweet Christian sister, Ajike (quite new to our screens), Mercy Johnson, as well as, Ade Laoye. And Lateef Adedimeji? Brilliant, brilliant delivery of a loan shark.
THE BAD
Now. Keep an open mind. Hear us out.
The title of the film and its plot are in great conflict. There's just no subtle way to say this.
A naija Christmas? If a Nigerian movie is christmas-themed, shouldn't we at least get the luxury of an abundance of Naija-flavour christmas on our screens?
The movie falls short in this aspect if we are keeping it real. Although, arguably, every scene had a Christmas decoration, there is almost nothing Christmassy about the movie. Even the anticipated Christmas gala felt rushed.
What Christmas means in a Nigerian setting wasn't really depicted. Party jollof rice is not exclusive to Christmas, and gifts from Santa Claus for kids is a global act.
The movie was just simplistic when weighed against it's title.
Till the end of the movie, you keep waiting for ' it ' to happen. Especially having at the back of your mind that ace director, Kunle Afolayan was controlling things, you just keep waiting for 'that moment' but it never came.
The not-so-exceptional plot was rushed and there was a heavy reliance on comedic elements. Remove the comedy and there's nothing.
If you're going to tell a Nigerian story (or craft your title to look something along that line) then at least do it in the style of the country.
A Naija Christmas had the potential of positioning itself as a perfect Nigerian holiday movie, but it didn't.
OUR TAKE
Overall, it is a laid-back and feel-good movie, but that's that about it. Or well, maybe our expectations were a tad too high but it's Kunle Afolayan and streaming giant Netflix we are talking about here!
We rate the film a 6/10. That's a generous 6 by the way.
And May Rachel Oniga's soul rest in peace