Most of its history and culture are lost as the world progresses through modernisation and migration.
However, all hope is not lost as certain cultures have found ways to protect their history through oral traditions, written accounts, and cultural practices handed down through generations, one of such being Otjize, the red miracle paste of the Himba people.
Found in present-day Northern Namibia, the Himba people are an indigenous African tribe with an estimated population of 50,000 people. A Nomadic tribe, the Himba tribe, is often referred to as the last nomadic people of Namibia, predominantly livestock farmers; they count their wealth in the number of cattle owned.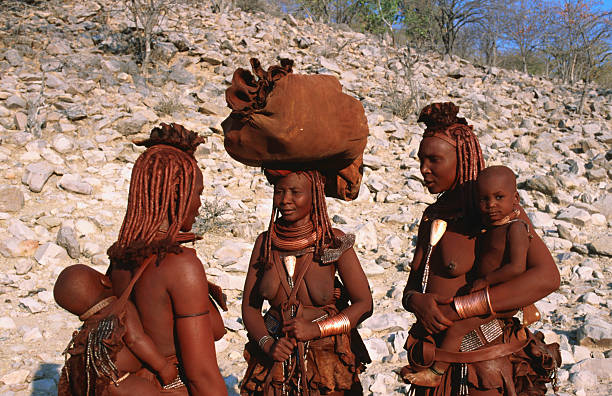 Known for their red clay skin & hair, the Himba women have been pictured and portrayed as an iconic image of African tribes.
Otijze, the red beauty paste used by the Himba women, is responsible for their skin's distinct red colour, which has earned them the name "Red People of Africa."
Made from a mixture of butter and ochre, Ojitze lends the deep reddish tinge to their skins and is regarded as the ideal beauty standard for the Himba people. Ochre, the main ingredient in this reddish tinge, is a natural red clay pigment made from a mixture of ferric oxide, clay, and sand.
Otjize holds tremendous significance for the Himba people, symbolising the earth's rich red colour, blood, and the essence of life.
The Himba use this red clay (otjize) in their hair, which is kept long and plaited into intricate designs with goat hair added for stylish purposes. Himba women begin to use this paste perfumed with aromatic resin omuzumba (Commiphora multijuga) to design their hair from puberty.
Speculated to have begun to protect their skin from sunlight and repel insects, the Himba people have described the use of otjize as purely aesthetic, a traditional make-up applied strictly by the women.
Otjize in Skincare
Since they occupy a desert region, otjize also serves hygienic purposes, as when it flakes off, it removes dirt and skin. The Himba people also use Wood ash to wash their hair.
The Himba women begin their day by lathering their bodies in otjize; they start by first taking a smoke bath in the aromatic resin before moisturising with the mix of herbs and ochre.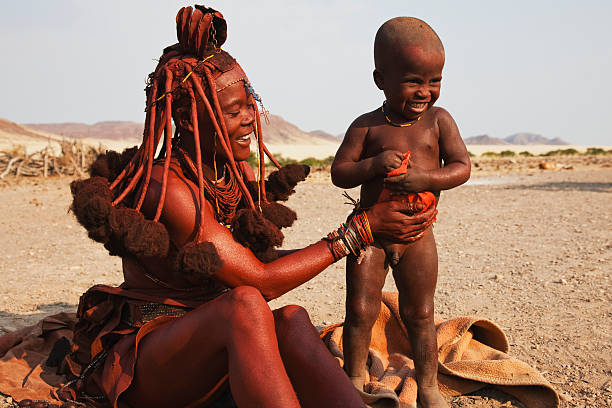 This natural mix protects their skin from the harshness of the weather, preventing body hair growth while keeping mosquitos away.
Otjize in Haircare
For The Himba People, the hair holds a ton of significance; considered a symbol of fertility, long thick strands are viewed as a testimony to a woman's ability to bear children. This is why the average Himba woman spends a ton of time adorning herself and performing several other beautification rituals.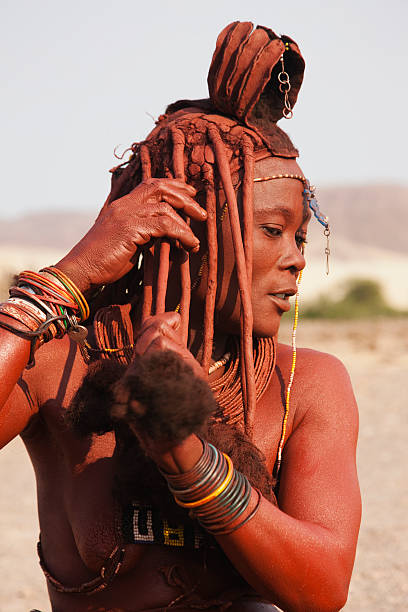 Each hairstyle tells a story as they move through puberty and find their place in society after marriage. These symbolic hairstyles take communal effort as different groups create different hairstyles lengthened with woven hay, artificial extensions, and goat hair.
Each hairstyle represents the wearer's age, status and social standing, allowing them to identify one another easily.
Still, on her way to puberty, the young Himba girl starts off plating her hair into ozondato (two braids), falling forward and styled to match her father's paternal clan.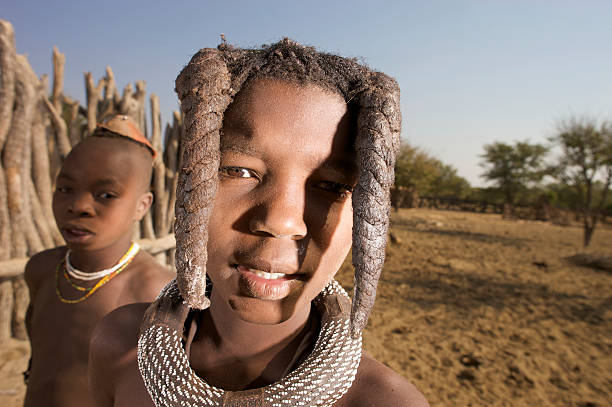 Her braids and skin are covered in otjize.
For twins yet to reach puberty, one twin wears one braid forward, as her twin wears the other one forward.
The Teenager Ready For Marriage
Once she reaches puberty, the teenager is styled with longer hair using extensions plaited in front of her face. This is to reduce the male gaze as she preps for marriage.
Once ready for marriage, the hair is then styled away from her face so she can be seen by suitors.
Once married, the Hamba woman styles her hair based on the number of children she has.
If she is yet to give birth, she wears a headdress made from animal skin. Once she births her first child, she then wears an ornate erembe headdress adorned with beaded accessories, sculpted from the skin of a goat's head and other leather parts.
Her hair is sculpted with otijze, and she wears a necklace with a Ohumba (cone shell), another symbol of fertility amongst the Himba people.
For the Himba people, beauty is all-natural, and otjize symbolises cultural preservation of ancient customs.
Culled from The Guardian